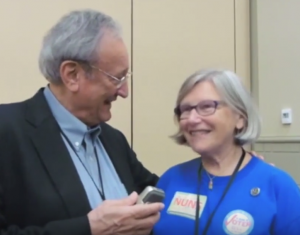 Here's what's coming up this weekend on State of Belief Radio –
Do you think it's high time for some voices of moral leadership to weigh in on the divisive, hateful rhetoric we've been enduring in the political campaign? Good! NETWORK Lobby for Catholic Social Justice is doing just that, and Executive Director Sister Simone Campbell will be with us to unveil the Presidential Bigotry Watch project.
Also, a compelling new film from voting rights advocate Greg Palast opened this week. You'll hear about The Best Democracy Money Can Buy – the movie. Greg's book of the same name has been re-released in a completely updated version, as well.
And a nationwide demand for gun safety – set to music. Menachem Creditor, founder of Rabbis Against Gun Violence, will be here to tell us about the all-star Concert Across America to End Gun Violence on September 25th.
Follow us on Facebook for updates and bulletins – and be sure to tune in! Here's how to listen.